Events & shows
Venice night gondola ride
Take a gondola ride at night and enjoy the magical atmosphere of the lagoon city after dark!
WHY DID WE LIKE THIS EXPERIENCE SO MUCH?

A romantic atmosphere!
Stunning views of the city after dark!
Enjoy Venice after day trippers have gone!

You can't think of Venice without imagining a typical Venetian Gondola! From the famous Grand Canal, spanned by the majestic Rialto bridge, to the lagoon at the edge of the square of san marco, overlooked by st mark's basilica, or gliding under the Bridge of Sighs, you will see gondolas everywhere! If you are looking for things to do in Venice at night then a Venice night gondola ride is a very special experience.
A private gondola ride in Venice along the city's canals is definitely an unforgettable experience! A romantic gondola ride at night can be even more special as you glide down the enchanting canals and see the city as it was meant to be seen, this time at night. Admire the picturesque architecture from a different perspective and explore the smaller back canals of Venice by gondola at night, and be fascinated by the city's after dark charm!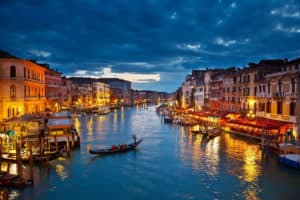 Private gondola ride – why go at night?
A private gondola ride is special at any time of the day or night, but some may say that it is an especially romantic thing to do after the sun goes down and that it is one of the most magical experiences to do in venice.
Our expert gondolier, in his classic blue and white outfit, will host you along canals, and explain how to row the Venetian way and why you use only one oar! Relax on the typical red velvet armchairs draped with golden tapestries and let yourself be carried along by the waves lapping at sunset. Float gently along at the relaxed pace of the gondola, and take in the sights and sounds of Venice that surround you.
A traditional gondola ride along the canals of Venice is the most authentic way to experience this unique city. Enjoy the stunning views, the majestic buildings and appreciate the beauty of this city of the doges and absorb the history of Venice. Admire elegant architecture, unique bridges and watch Venetian life go by. Sometimes gondolas can access different areas by night when the canals are less busy, but do remember that the sun sets at quite a late hour in the summertime!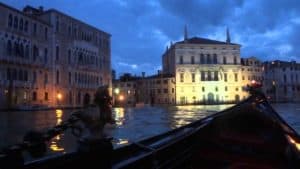 Prices for a thirty minute ride start at € 125.
Consult our other activities to do in venice at night:
Private Experience
Sustainable
Accessible with public transport
Price
Prices for a thirty minute ride start at € 125.
Included / Excluded
Included :

A 30 minutes private gondola ride
Excluded :

Other practical information

Give this experience
Do you want to know more or check availability?