Murano Glass Demonstration Venice
Murano glass demonstration, This workshop of glass lampworking techniques will help you discover the authentic character of the city.
WHY DID WE LIKE THIS EXPERIENCE SO MUCH?

Learn the art of glassmaking with a practical workshop adapt to everybody
Discover a traditional technique with the help of a glass master
Create a unique souvenir in Murano glass with your own hands
Other practical information
For max. 2 people
Available starting from 18 y.o.
Italian
English
French
Spanish
Included :

All the equipment: tools, glass, tubes, etc.
Excluded :

Everything not specified as "included".
Should the experience be cancelled, a 20% penalty will be withhold.
There will be no reimbursement in case of a later cancellation or NO SHOW.
Availability
Monday to Saturday from 4,30.p.m. On Sunday available on request.
The streets of Venice are the ideal place to witness the craftsmanship of Murano glass making. The city is a treasure trove of artisanal workshops where master glassmakers create splendid artistic glass creations. In fact, the Murano glass is all still hand made and the artists skillfully mold this material with techniques such as lampworking or blowing. In the small shops of Venice we can introduce you to artisans who are happy to talk to you about their art and run practical workshops for you to try your hand at making your own glass pearls or jewellery.
Why is Murano glass so special?
Murano glass is essentially the same as any other type of glass. However, Murano glass is as different from, say, the glass in your window panes, as Van Gogh's sunflowers are different from an empty canvas. Murano glass is created only on the island of Murano and in some parts of venice itself. This glass is made from silica, soda, lime and potassium melted together in a special furnace at a temperature of 1500°C to reach a liquid state. Gold or silver foil can be added to the glass mixture, along with such minerals as copper for sparkles, zinc for white color, cobalt for blue, manganese for violet, and so on. The mixture is then mouth-blown and/or hand-crafted by master glassmakers using special techniques like working with a blow torch, and basic tools, many of which were developed in the Middle Ages and have changed little since then. This method of glass-making results in unique creations with rich coloring and beautiful, sometimes surreal, patterns and shapes, deserving to be called "works of art". Even though beautiful glassware has also been created in other places around the world, none of the glassware still being produced has such rich history and so much artistic value as Murano glass.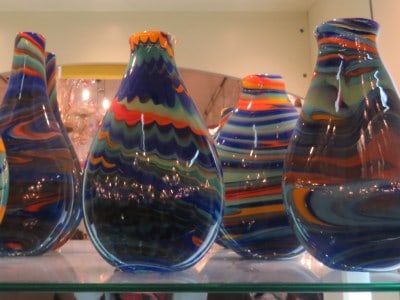 The Lampwork Technique workshop – what you will learn

With this course you will meet Massimiliano, a well-known master glassmaker of Venice, who will be happy to welcome you into his workshop in Cannaregio and teach you the technique of working with glass. Instead of blowing the glass, here it is melted with a blow torch. The artist starts with a free glass blowing demonstration working the glass object and adding different elements, such as murines or metal oxides between the layers of glass, to make different colours. Seeing glass production and molten glass is really fascinating and gives the sensation of witnessing a work of alchemy.
According to history, due to too many fires caused by glassmakers in the city, Murano island became the place in Venice where glassworks had to move in order to carry out their business activities. Nowadays, things have changed, and it is possible to use glass lampworking techniques in workshops located in the heart of Venice. This is the art in which master craftsman Massimiliano has specialized over the years. His production is reknowned internationally and his style is unmistakable.
During the 90-minute workshop Massimiliano will tell you about the history and the characteristics of this glass working technique:
During the workshop you will be able to discover the history and characteristics that differentiate the Murano glass from other types. In addition you will be able to try the technique of glass processing yourself, right here in Venice, the world capital of glass making! During this workshop you will take centre stage and create a glass art work of your own with the teacher's help of course! After the practical demonstration, you will sit down at the torch and heat the glass for processing. You will decide on the style you want, the colors and the materials to use for your own work of art! Massimiliano will support you until the end of the process to help create your own piece of glass work by applying the basics of the lamp technique.
You will have an unforgettable experience that you can have nowhere else but venice!
How do I book the glass processing course?

The glass workshops last an hour and a half. They are held in the morning at 8.30 or in the evening at 19.00. You can book the course online here.
If you would like more information, do not hesitate to contact us!
***
Would you like to try other unique experiences related to glass? You should visit the island of Murano! It is in fact here that the great glass furnaces were moved centuries ago, to safeguard the city of Venice from dangerous fires. Here you can enter a huge furnace and witness the glassblowing demonstrations (visit the Murano glass factory guided tours page), or if you are a jewelry lover you can learn how to compose jewelry yourself with a practical course held by a Muranese artist: visit the page Glass working at lumen: Composition course Jewelery in Murano.
Courses & Handicrafts