The airport of Venice – Treviso is located on the mainland, about 40 km from the city of Venice. All transfers from Venice to Treviso airport, depart from Piazzale Roma or Isola Nuova del Tronchetto.
Piazzale Roma is the stop we would like to suggest you: here all the waterbuses stop and it is a couple of minutes walk from the Santa Lucia train station. At Tronchetto only line 2 passes, with the risk that you will have to change a couple of vaporettos before arriving here. Since the prices of the airport shuttles and travel times are the same, it would not make sense to further lengthen your return trip. Enjoy a little more time in the old town!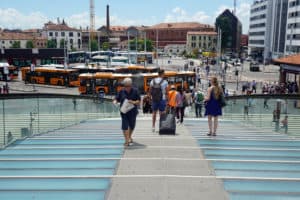 First of all, then, check how to reach Piazzale Roma from your accommodation, or with a vaporetto ACTV or by water taxi. And from Piazzale Roma, which transfer to choose?
By taxi: all useful information
The private transfer service from Venice to Treviso airport is managed exclusively by private car rental companies with driver. All the taxis that you will find parked in Piazzale Roma, in fact, serve only the urban area and very difficult to convince them to take you to the airport of Treviso. The travel time is about 45 minutes and the price of the service starts from 80 € (to which can be added supplements depending on the time, number of bags and people).
Being private services, our suggestion is to make the reservation within the day before.
The bus: comfortable, fast and economical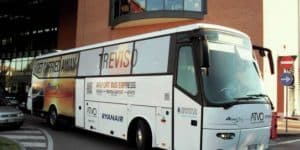 The bus is an excellent solution to reach the airport Canova allowing you to save a little 'compared to the taxi From Piazzale Roma leaves the Treviso Airport Express bus that offers many advantages:
comfortable: new coaches, with a separate luggage area from the seats, free and unlimited WI-FI on board
fast: 1h and 10 minutes to get there
direct: only two intermediate stops in Mestre
guaranteed: from 8 a.m. until 11 p.m. at night
Cheap: 12€ single ride and 22€ round trip purchased at the same time.
There are also shared shuttles from Piazzale Roma to Treviso airport. The price per person is 40 € so… if you are already two or more at the same price you can reserve your private taxi and choose the time at which you prefer to leave!
From Mestre, how do you do it?
If you leave from Mestre, it is even easier to reach Treviso's Canova airport. Mestre, by now you already know, is already located on the mainland, so the movements are more "normal" and quicker:
taxi: the driver will pick you up directly at your hotel; the trip takes about 30 minutes and has a price starting from 70€ (for 4 people and their 4 luggage). Remember to reserve your car rental service with driver in good time.
ATVO airport shuttle: make an intermediate stop at the railway station Venice – Mestre and one in Corso del Popolo (in front of the theater Corso a few steps from Piazza Ferretto), the price of the ticket is always 12 € single ride and 22 € for the round trip while the trip lasts 1 hour.
How long before leaving for the airport of Venice – Treviso?
Whatever means you have chosen, keep in mind that you are travelling on wheels and that at certain peak times (such as in the morning around 8 am or in the afternoon between 6 pm and 8 pm) the roads can be a bit 'busy: do not forget to leave a little' in advance to avoid arriving by a whisker at the check – in.On average, the estimated time from your accommodation from Venice to Treviso airport is 1 hour and 30 minutes by taxi, and two hours by shuttle bus; from Mestre instead the time is shortened to 30 minutes by taxi and just over an hour by bus.
Keep sailing with us discovering:
How to get to Venice – Piazzale Roma by express bus
How to get to Treviso airport from Venice – Piazzale Roma by express bus
 The distance between Canova airport and Venice
 All transfers from Canova airport to Venice and Mestre